Last Updated on July 25, 2023 by Corynn
This post contains affiliate links from Amazon and other brands where I will be receiving a small commission on any items you may buy. You can read the terms and conditions for more information. All photos are credited to the source unless they are my own.
---
Want to make your apartment feel Christmassy but worried about the small space you have? This blog post is all about 15 Christmas decorations for small apartments.
How To Decorate My Small Apartment For Christmas On A Budget?
decorating your small apartment is super easy (I'll be entering my third year decorating our small apartment)
You want to make sure not to clutter your apartment with tons of decorations. You can be very subtle with the decorations you choose. For example, you can place Christmas throw pillows on your couch and the place will still look festive!
Trying to stay on a budget? There are several ways you can save money on decorations! You can shop at the dollar store or even search on Amazon for some decor.
Down below I have listed my top 15 Christmas decorations for small apartments that I currently use for my own small apartment.
15 Christmas Decoration Ideas For Small Apartments!
1. Christmas Tree
With having a small apartment, you don't really want a 6ft Christmas tree. It takes up a lot of space and will make your living feel crowded! I say "The taller the ceiling, the taller the tree".
Instead, you can get a small tree or a table-size Christmas tree. Down below is a traditional tree that is below 6ft or some small trees you can place around your apartment.
DECOR TIP: Grab a tree that has lights built-in. Limits the amount of decor in storage and is just way easier to set up (no more detangling tree lights!)
2. Ornaments
So, your small apartment cannot fit a Christmas tree, doesn't mean we can't incorporate ornaments into our apartment Christmas decor. Ornaments can be filled in a glass vase, on a garland, or even hung anywhere in your apartment!
3. Orbs & Pine Cones
Previously I mentioned how you could use ornaments to decorate the apartment. Why not orbs? One thing you can do is place them inside a large bowl and put them on your front-end table. You can also do this with pine cones. Place them around your mantel or TV stand.
Want to do a little DIY? Create your own Pine Cone Tree! Here is a how-to guide from Craft Idly on How to Make a DIY Pine Cone Christmas Tree
4. Garland
Something so simple can be changed into basically anything. With a simple garland, you can add; pine cones, fake snow, glitter, or anything! You can place garlands on your windowsill, TV stand, tables, or even around your door.
5. Christmas Stockings
Living in a rental, you don't want to put too many holes into the wall because it'll be a pain to close them back up when it is time to move out.
Command hooks will come in handy for holding up your Christmas stockings temporarily. Plus they are super easy to come off!
Need some ideas on what to place in everyone's stocking? Here are some Stocking Stuffers Ideas for Him and Stocking Stuffers Ideas For Her
6. Pillow Covers
If you have pillows on your couch or on your bed. Christmas pillow covers can be a simple but drastic change to your overall Christmas decorations for your small apartment.
They are super easy to clean and also store away after. Limiting the amount of space in your apartment.
7. Wreaths
Decorating the outside of an apartment door is not the same as decorating the outside of a house. With a house, you may have a front porch and room to place decor on your front lawn.
Although with an apartment you may have someone take your decor and walk away with it.
With this, you have ideas to decorate your door with ribbon or even with a Christmas wreath. A wreath can design any way you like. You can add foliage, leaves, pine cones, ribbons, and ornaments.
You can even DIY your own wreath or you can just buy one already made.
8. Poinsettias
One of my grandmother's favorite plants to have around during the holidays. It so happens that her birthday is in early December. Every year on her birthday, I would have so many of my uncles and aunts drop off a pot of Poinsettias for her.
Her house would be filled with Poinsettias around Christmas time. It really helped put the feel of the holidays around the house.
If you enjoy having plants around your apartment then this is the plant for you.
9. Hand Towels
I bought Fall hand towels for our kitchen and I didn't realize how much of a change it made! I'm totally doing this again for the holidays (well with Christmas hand towels).
If you want a way to make your kitchen or bathroom feel like Christmas without adding any extra decorations. This is the way to go! Just simply adding hand towels can be a game-changer for your Christmas decorations.
10. Cups & Plates
Fun fact! One of the first items I bought for my apartment was a Christmas dining set. I believe it comes with 4 cups and 6 plates.
You can use these on Christmas day or even keep them on the table as decor.
My husband and I prefer to keep the Christmas dining set out for the whole month of December.
11. Placemats
What goes well with plates and cups? Placemats! Changing your regular placemats with Christmas placemats is another simple way to get the festive feeling in your apartment without taking up too much space.
Don't have a dining table? Use it on top of your coffee table. Or if you eat on a island table just buy a couple to use while you're eating then store it away.
12. Outdoor Christmas Lights
Just because you can't decorate the front of your apartment doesn't mean your balcony is off-limits. Depending on what is stated in your lease, you are allowed to put up lights outside. Remember to check if the lights are outdoor lights.
If you don't want to put lights up outside, you can add fairy lights on the inside of the windows.
13. Christmas Printable Art
Printable art has been up and coming for the past few years. How do you feel just spending as little as $10 for printables, and a photo frame?
There are so many printables you can buy to help decorate your apartment. Etsy is a great place to find some Christmas art that you can print. Here are a couple of shops that sell printables for Christmas.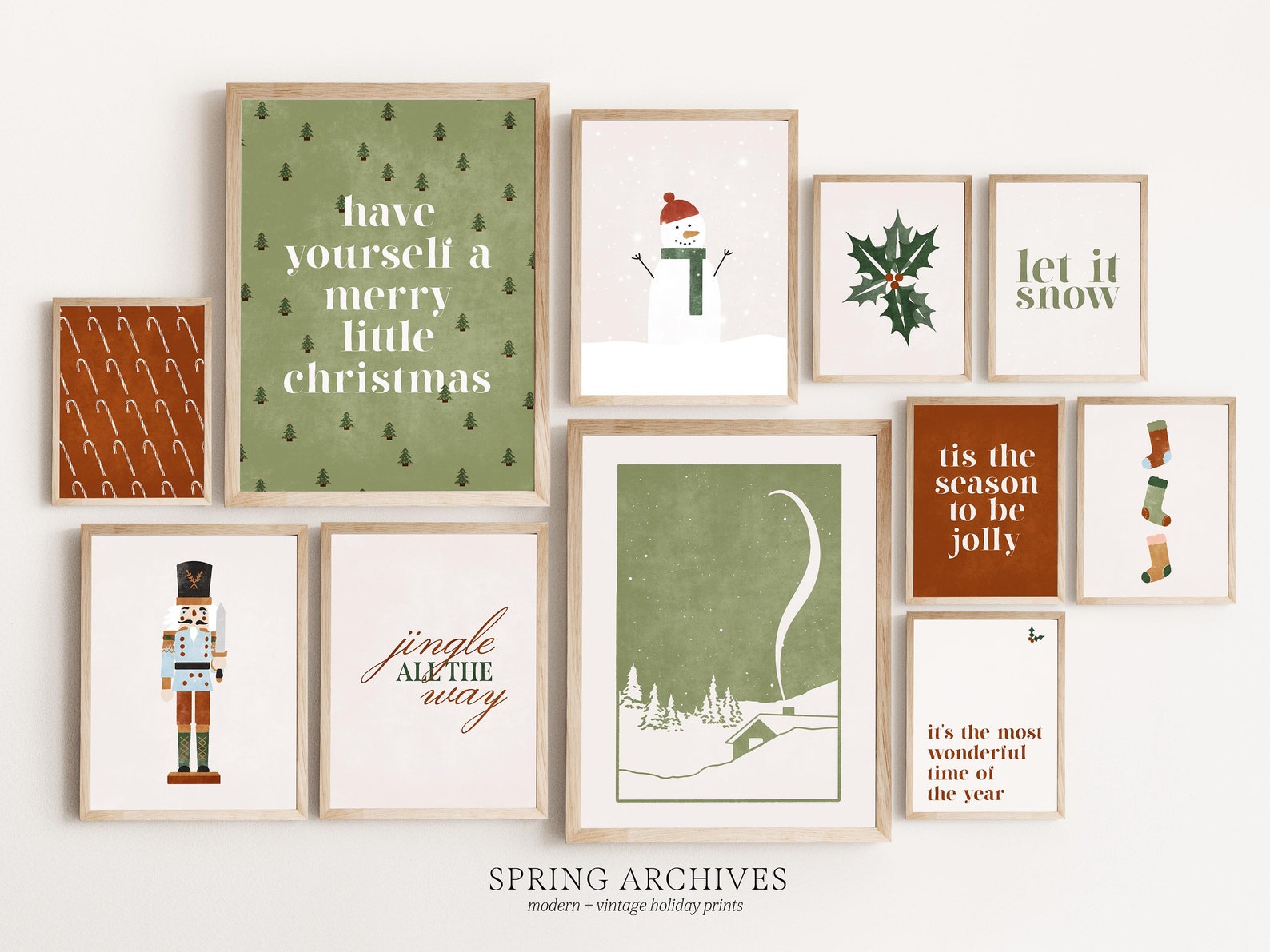 ---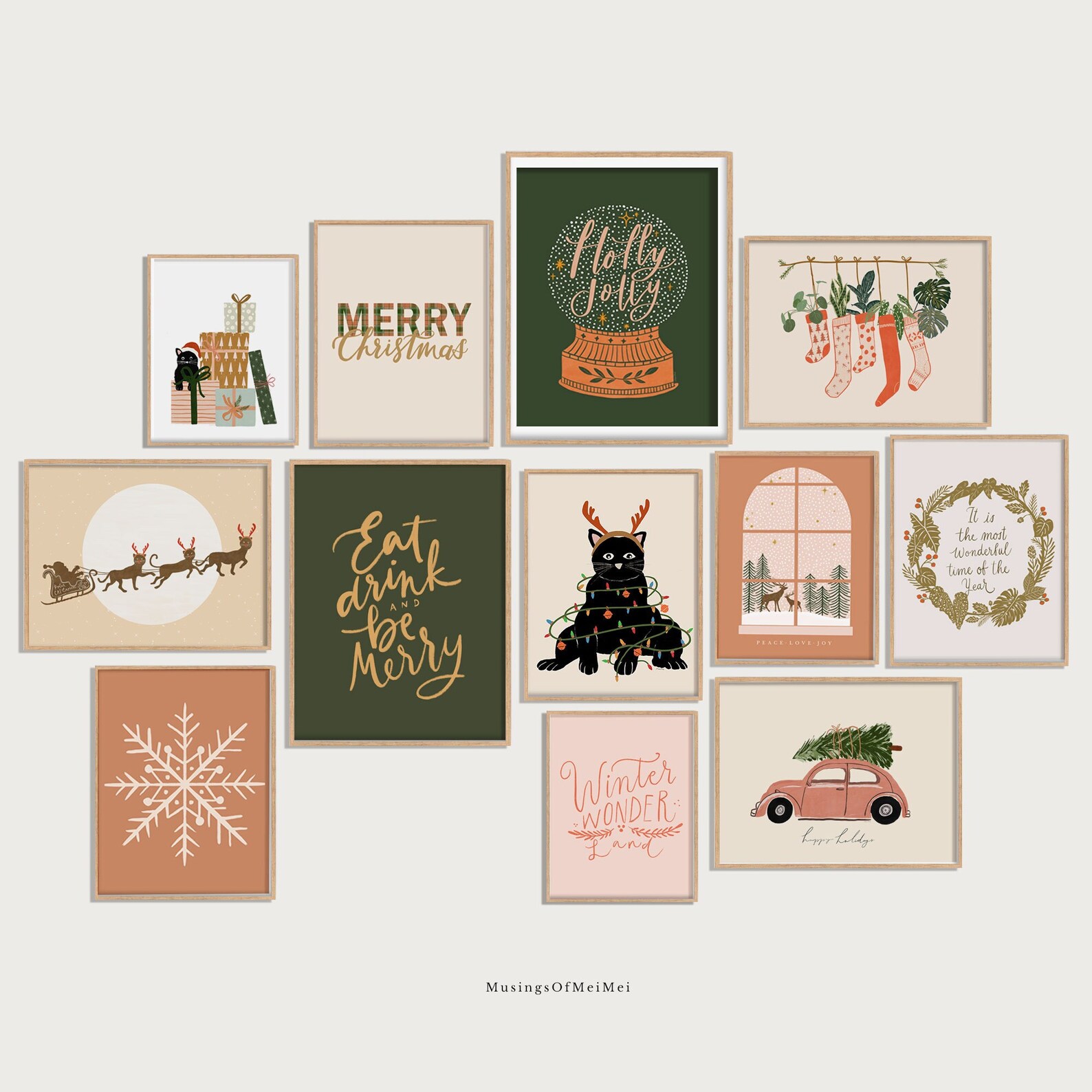 ---
14. A Christmas Countdown
From kids to adults we always get excited counting down until Christmas. This decor item can be placed anywhere in your apartment. The kitchen, front entryway, TV stand, windowsill, anywhere!
15. Candle Holders
Candle holders can be another way you can decorate your small apartment without taking up major space. Some candle holders have Christmas like characters to make your place feel festive.
---
Tips On How To Decorate A Small Apartment For Christmas
Tip #1: Give Yourself a Budget For Christmas Decorations
People believe that you need to shop at Winners, Homegoods, and other decor stores to decorate your apartment.
When it reality you don't have to spend hundreds and hundreds of dollars. You can easily go to the dollar store, Target, or Walmart to find really affordable items.
Having a budget for your Christmas decor will keep you from spending so much.
Tip #2: Use Pinterest For Inspiration
Any time I need Christmas decor ideas for small apartments, inspiration, or need to recreate something, I always go to Pinterest. Pinterest can help you find so many decoration ideas for each room of your apartment.
Tip #3: Start Small And Work Your Way Up!
This tip goes well with Tip #1. You don't need to buy everything at once. You can start with a Christmas tree and ornaments this year, and then next year you can put up Christmas lights on your balcony.
Tip #4: Prior to buying any decorations, make sure you have the storage space!
One thing you should have on your mind is when the holidays are over, where are you going to be putting your seasonal items? Some apartments have designated storage rooms you can use, although I have heard tons of stories of people's belonging being stolen.
Another thing you can do is purchase a small storage unit at U-Haul or other storage-like spaces.
Buut if you are anything like me (who would rather save money) just utilize the space you have.
Right now we have a total of 1 large storage bin that fits all of our seasonal items and 2 small organizers for our ornaments and a Christmas tree. That's all that we can fit in our small apartment.
If you need more ideas on storage space, I have a great blog post you can look at on Apartment Storage Space
Tip #5: Get a Light Self-Timer (Trust me!)
With the season of giving, you really want to save money as much as you can! Even with your electricity bill. Getting light timers can automate when they turn on and off. So your Christmas tree light is not on all day.
You can buy this basically at any home hardware store. We tried a dollar store self-timer and it stopped working halfway into December. So this year we are gonna splurge a little on a proper self-timer.
Here is the self-timer that is currently in my shopping cart
Overall…
Remember to not let your small apartment stop you from decorating for the holidays, this also includes; Thanksgiving, Halloween, Valentine's Day, etc.
Once you know what your small space can handle and figure out storage. Begin decorating!
Want to read this later? PIN IT!📌